Books by Tom Wallace & Bob Stahl...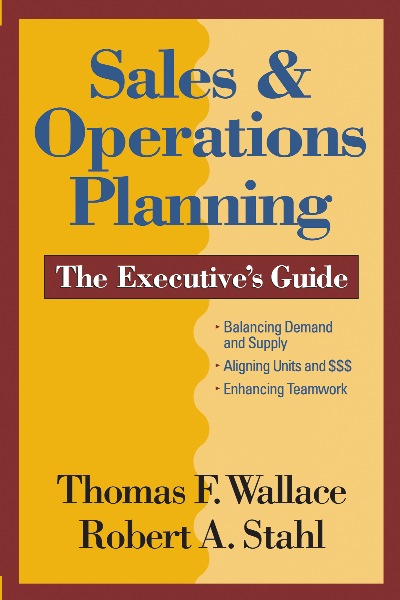 Sales & Operations Planning: The Executive's Guide
At last! - a book on Sales & Operations Planning written specifically for the busy executive. Clear and to-the-point, Sales & Operations Planning: The Executive's Guide can be a great way to introduce Executive S&OP to your president, his or her staff, and other key people in your company.


PREVIEW THIS BOOK!
ORDER NOW!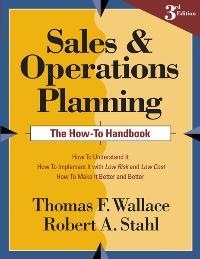 Sales & Operations Planning: The How-To Handbook (3rd Edition)
The definitive - and best selling - book on Sales & Operations Planning, now in its THIRD EDITION. Here's S&OP from top to bottom line: How it Works - How to Implement It with Low Cost and Low Risk - How to Make it Better and Better. It covers all aspects of successful implementation, from composition of the Executive S&OP team to the nitty-gritty of S7OP spreadsheet design.


PREVIEW THIS BOOK!
ORDER NOW!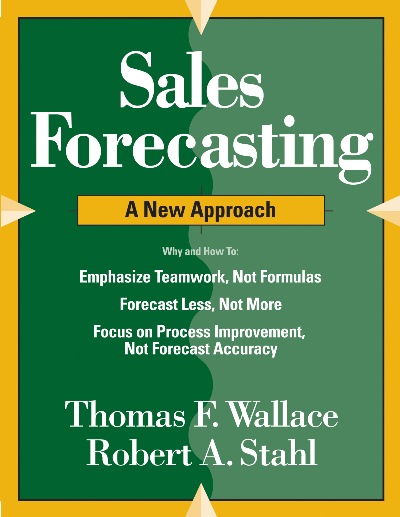 Sales Forecasting: A New Approach
This book represents a new -- some may say radical -- approach to Sales Forecasting. It shows how to get better forecasts with less effort, and better forecasts mean happier customers and lower inventories. It emphasizes that forecasting is a process. As such, it can be improved by using standard process improvement tools from the world of Six Sigma and TQM.


PREVIEW THIS BOOK!
ORDER NOW!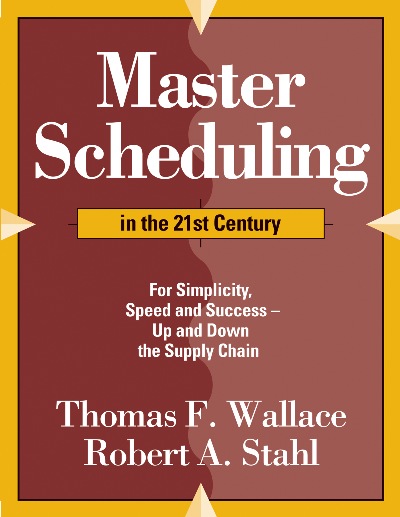 Master Scheduling in the 21st Century
Finally: a simple, easy-to-read, up-to-date book on Master Scheduling, one of the bedrock foundations for success. This book tells you all you need to know to make Master Scheduling successful in your company. It describes the relationship between Master Scheduling and Lean Manufacturing, Supply Chain Management, and Enterprise Resource Planning -- and contains valuable information such as a 27-item checklist for Master Scheduling effectiveness and a sample job
PREVIEW THIS BOOK!
ORDER NOW!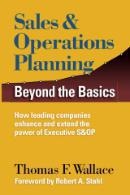 Sales & Operations Planning - Beyond the Basics
Today we see companies using Sales & Operations Planning for purposes far beyond its original missions of balancing demand and supply and integrating financial and operational planning: supporting the merger of two businesses into one high-performance business unit, serving as the basis for earnings calls to Wall Street, helping to create a new business, optimizing global production plans and thus profits, making cash flow projections 18 months into the future based on operational demands and supply plans, and more - and you can learn about it inside this book.

ORDER NOW!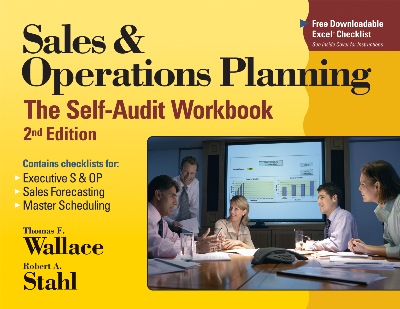 Sales & Operations Planning: The Self-Audit Workbook
The checklists will help you get the answers and start on a path for improvement. It has plenty of room to keep running notes, places to assign responsibilities and record due dates, even a chapter on conflict resolution We offer an Excel file for calculating and keeping scores.

EMAIL NOW TO ORDER!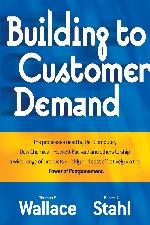 Building to Customer Demand
This book explains Postponement, which Dell Computer calls build-to-order. This powerful process that has enabled companies to ship an increasing variety of products, provide very short lead times, carry little or no finished goods inventory, and compete effectively with offshore manufacturers. If you'e not using Postponement today, you might well be using it within the next five years, because your competitive climate may demand it. Get ahead of curve and investigate Postponement now.

EMAIL NOW TO ORDER!